Here at DynaFire, we ensure our clients have the very best in Fire & Life Safety services.
DynaFire offers a wide range of Commercial Fire Alarm Systems and Smoke Detection solutions, all from manufacturers and distributors that have proven to be the best in the industry. Coupling high-quality products with DynaFire's NICET certified technicians is the best way to ensure the protection of life, property, and business. Our skilled team has the ability to design, install, and maintain fire alarm systems in businesses large and small.
DynaFire provides fire alarm system installation, fire detection products and services for  fire alarm systems ranging in size. We evaluate the needs of each client and design a Service Plan based on facility and budgetary requirements. No two buildings are alike. From structural requirements, all the way down to type of tenant, DynaFire has the knowledgeable staff to provide code compliant services to ensure our clients have the very best Fire & Life Safety services, and the proper fire alarm monitoring coverage.
Install a Fire Alarm System Today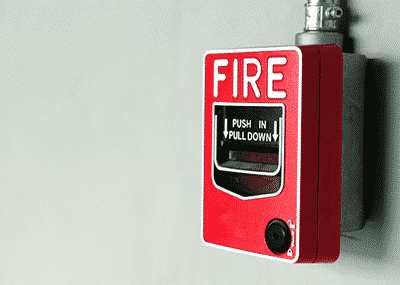 Already have a fire alarm system installed? Our certified technicians are knowledgeable about all major systems, regardless of distributor; they are not limited to working with certain products. Why? Because DynaFire is not in the business of forcing fire alarm system installations or upgrades. We approach each client interaction with the intent to service their existing system to ensure code compliance and safety. Building trust with our clients is a valuable asset that many competitors overlook when dealing with commercial fire alarm systems. We know how important client confidence is because at the end of the day, they are trusting us with their most valuable assets.
Deliverables
Aspirating Smoke Detection
Emergency Communications Systems (ECS)
Mass Notification Systems (MNS)
Notifier Engineered Systems Distributor (ESD)
Complete Line of Notification Devices
Complete Line of Detectors, Monitor & Control Devices
Toxic & Combustible Gas Detection Systems
UL Runner Service
Video Smoke & Flame Detection
24/7 DynaNet Wireless Monitoring
Complete Package T & I Services
Test & Inspection
DynaFire is capable of providing fire alarm system testing and inspection services to any commercial fire alarm system. Not sure what services you need? Give us a call and we will either walk you through the steps to assess when your last inspection was or have a qualified DynaFire team member do a walkthrough of your facility.
Annual Commercial Fire Alarm testing
Quarterly Commercial Fire Alarm Testing
Smoke Detection Sensitivity Testing
Deficiency Corrections
Emergency Services
DynaFire fire protection services are available for 24-hour emergency support. Call for immediate assistance during non-business hours. DynaFire emergency services and fire alarm testing are available regardless of whether or not we took care of your fire alarm installation.
407-830-6500