Protecting high-value assets and preventing long periods of downtime are priorities for many companies.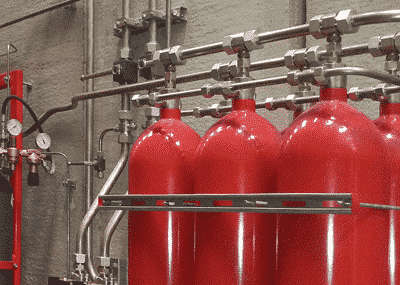 Whether you are concerned about your mission critical equipment or the volatile combustibles on your property, a special hazard fire suppression installation is a great Life Safety choice. Our highly trained team has the ability to inspect and service your existing system or design. Our team can also identify the need for a fire suppression system solution and install custom clean agent or waterless fire suppression systems to fit the individual needs of your business. DynaFire has a wide selection of systems and products that businesses and locations need to keep their products and customers safe.
Environments that warrant a suppression system:
Airport Hangers
Boat and Marine Applications
Cellular Sites
Chemical Processes
Computer Server Rooms
Factories
Flammable Liquid Storage Areas
Fuel Stations
High Tech Medical Applications
Power Generating Processes
Switch Gear Rooms
And many more!
Deliverables
Expansion Foam Systems
Clean Agent Systems (Waterless Suppression System)
CO2
Inert Gas
Pre-Action Sprinkler Systems
Clean Agent or Waterless Fire Suppression Systems
Water Deluge Systems
WaterMist Systems
Aspirating Detection
Linear Heat Detection
UV/IR Detection
Suppression System Solutions
Gas Detection
DynaNet 24/7 Wireless Monitoring
Test & Inspection Services
What do clean agent suppression systems
really do?
Get employees back to work faster
No damage to equipment
Electrically non-conductive and non-corrosive
Offers options for occupied spaces
Test & Inspection
DynaFire is capable of providing test and inspection services to any special hazard suppression system. Not sure what services you need at this time? Give us a call and we will either walk you through the steps to assess when your last inspection was or have a qualified DynaFire team member do a walkthrough of your facility.
Annual Suppression System Testing
Semi-Annual Suppression Testing
Enclosure Integrity Testing
CO2 Concentration Testing
Deficiency Corrections
Emergency Services
DynaFire's fire suppression installation services and suppression protection system solutions are available for 24-hour emergency support. Call for immediate assistance during non-business hours.
407-830-6500