Wireless Alarm Monitoring – No Telephone Lines Needed!
Wireless alarm monitoring not only saves time when every second counts, it saves you money on a monthly basis!
The DynaNet alarm monitoring system is a wireless mesh network that provides a fault-tolerant, end-to-end delivery system of security and fire alarms. DynaNet detects, informs and reacts to moments of crisis when seconds count. 100% efficient, DynaNet not only has minimal set up but is also scalable regionally, nationally and even internationally. Simply put, it is the most reliable and quickest wireless fire alarm monitoring response available.
DynaNet is installed by one of DynaFire's licensed technicians. Because there is no cabling, trenching or wiring, this process requires very little turnaround time. Immediately your property becomes a receiver, transmitter and repeater of other radio signals on the DynaNet radio frequency. All of these signals are collected by a Central Alarm Monitoring System, which alerts the proper authorities in real-time to lessen the severity of a disaster.
Install DynaNet Monitoring today
Your transmitter sends signals following the quickest route to the Central Monitoring Station. The routes are continuously recalculated to ensure information is traveling efficiently. As new transmitters are added to the network, the system dynamically adjusts the paths which information travels on. Not only does this provide maximum efficiency but it allows the network to grow exponentially without the need for additional infrastructure. DynaNet is ideal for those who are looking to protect assets on a regional, national and international basis.
With DynaNet, no critical information is left behind. Signals are sent continuously until confirmation of receipt by the Central Monitoring Station. Because each property on the DynaNet system is a receiver, transmitter and repeater, the information from each individual property is sent several times over. DynaNet has been rigorously tested and meets all UL and NFPA requirements and is recognized as more reliable than traditional radio tower, telephone and cellular transmitters.
DynaNet Services
Wireless Fire Alarm Monitoring – No Telephone Lines Needed! Want to know how it works? Watch this video explaining how
How it Works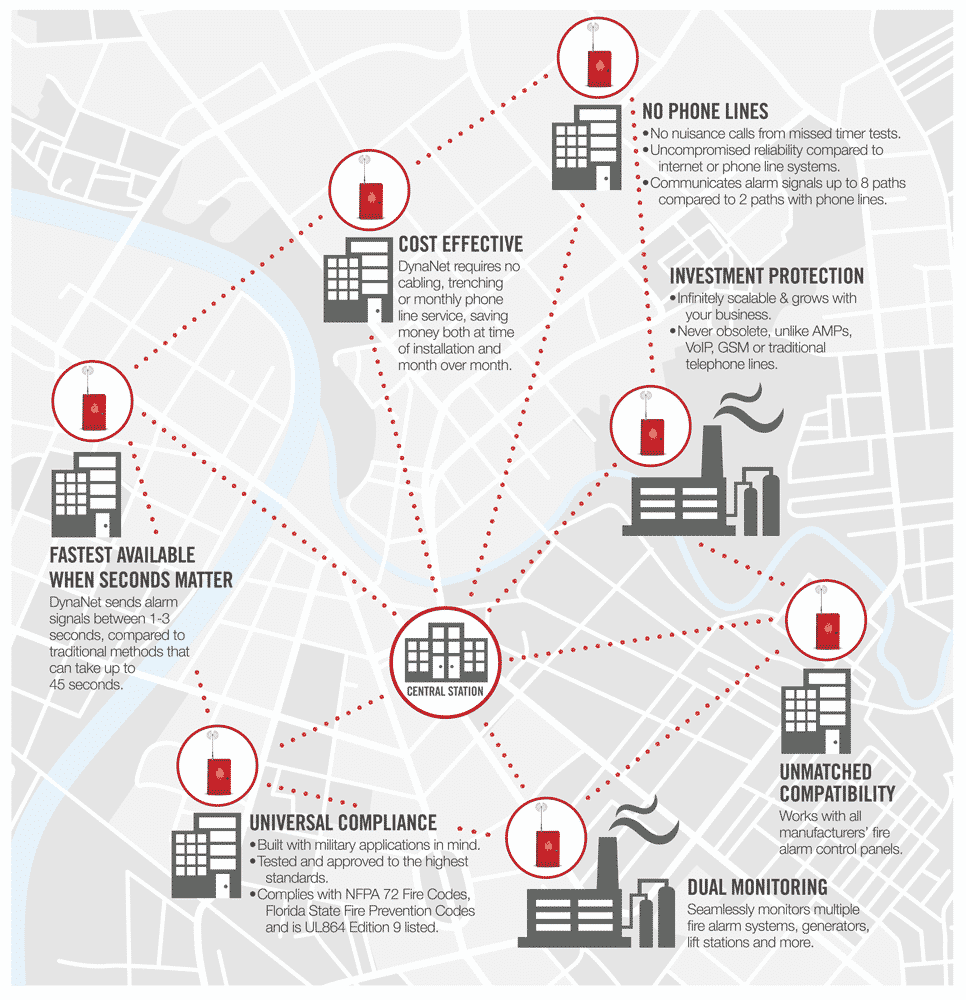 (click to enlarge)
---
Infinitely scalable, rapid installation and easy to manage. See how DynaNet can provide you with cutting-edge technology to keep your assets safe from disaster.