Reliable Two-Way Emergency Radio Communication Enhancement
During an emergency, reliable communication is critical. Staying informed with clear radio transmissions between first responders inside a building and emergency personnel outside the building can help prevent further injuries and save more lives.
Emergency Responders lose communications when in-building radio signals are weakened by structures such as concrete, windows, and metal. The Bi-Directional Amplifier (BDA) System, also known in some markets as DAS- Distributed Antenna System, is a signal boosting solution designed to enhance in-building radio frequency (RF) signal coverage for public safety radios.
The Challenge: A Weak Radio Signal
The performance of emergency responders and public safety radio systems can be affected by building construction, building size, construction features and other elements that absorb or block radio communications. Signal strength can be negatively impacted by: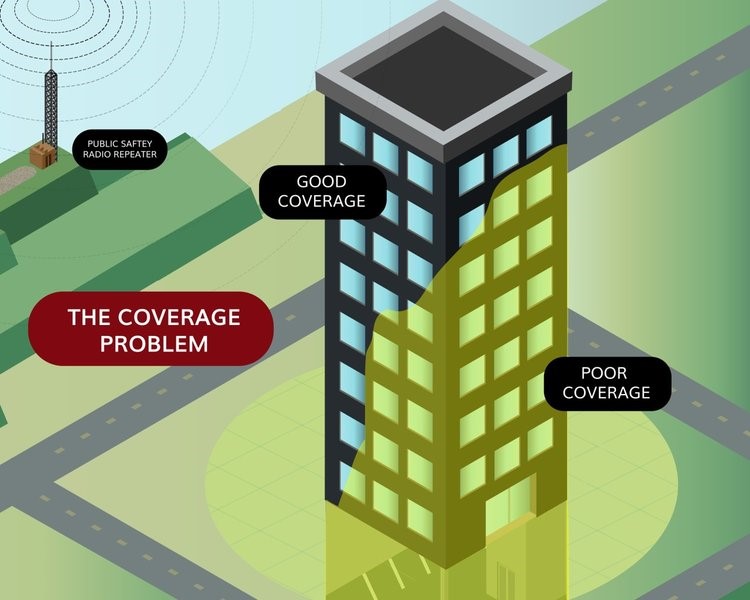 Large buildings
Concrete or metal construction
Underground structures
Low-E glass windows
An RF survey is conducted to determine if a building requires a BDA system. This survey, typically conducted by a specialized FCC GROL certified technician and some fire department radio personnel, measures the current buildings Downlink/Uplink signal strengths in decibels-milliwatts (dBm). Survey results are submitted to the Authority Having Jurisdiction – who will determine if a BDA solution is required.
The Solution: A Strong BDA System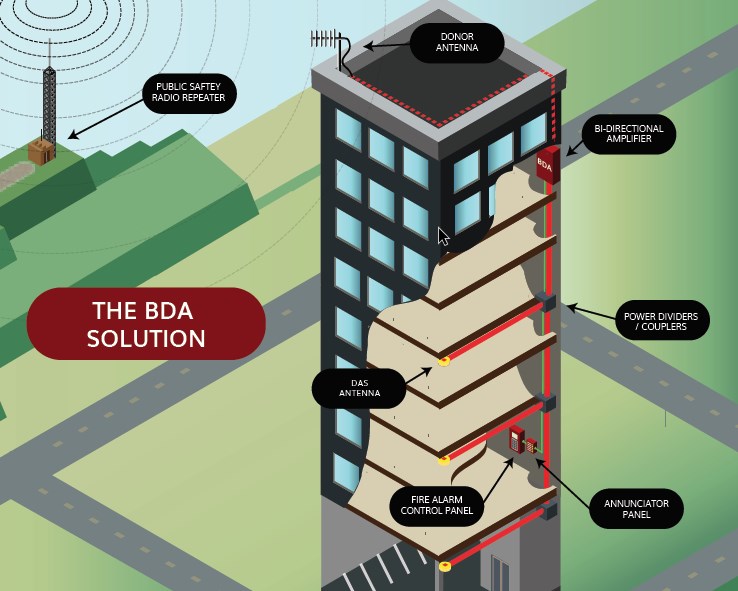 Tested and evaluated in accordance with UL 2524 1st Edition requirements for In-building 2-Way Emergency Radio Communication Enhancement Systems, Notifier BDA solution enhances two-way radio signal strength inside buildings, tunnels, and other structures. Our Class B, Bi-Directional Amplifier Solutions are a high power, band-selective radio signal booster system that can be designed and customized to meet all public safety frequency band ranges.
Contact DynaFire for an Onsite Evaluation
Who Needs BDAs?
Any building that is identified and inspected under local ordinances and/or is requiring public safety permits.
Many facilities now require BDA installation with new or building renovation permits and certifications.
Anyplace where first responders, maintenance, and security personnel need to maintain constant two-way communications.
Airport Terminals
Apartment Buildings
Assisted Living Facilities
Commercial Buildings
Convention Centers
Governmental Buildings
Hospitals
Hotels
Manufacturing Plants
Parking Garages
Retail Shopping Malls
Schools and Campuses
Shipping Ports
Stadiums and Arenas
          -And more!
Check with your local municipality or Fire Department for your local requirements.
What To Expect From DynaFire
Our FCC GROL certified team will assess your specific buildings needs with an on-site evaluation. Each structure is unique therefore so must the system design be.
DynaFire provides design services on BDA equipment and installation.
All DynaFire BDA designs comply with government mandates and Code Compliance.
Being a Full-Service organization, our work does not end after design and installation. We offer maintenance and Test & Inspection services to maintain a healthy BDA system so our clients and emergency personnel can have the peace of mind that, should an emergency happen, communication would go uninterrupted.
Contact DynaFire about your BDA Needs
Resource: Florida BDA Statue