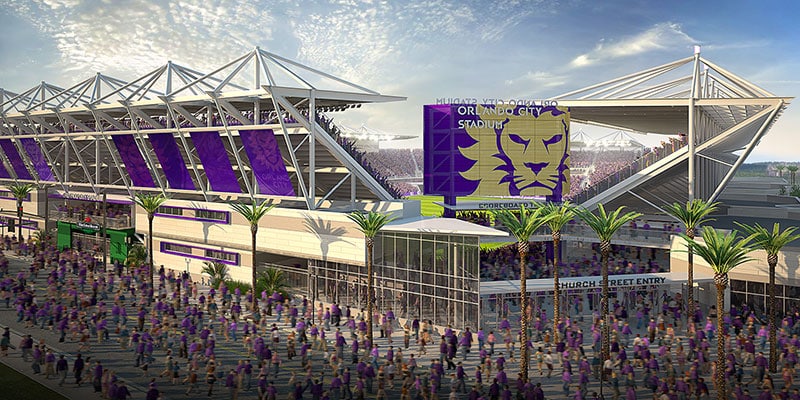 We are very excited to be a part of constructing the new Orlando City Soccer Stadium. Not only is it a great professional achievement, but it is also an opportunity for us to play a greater role in our community. Orlando welcomed the franchise in 2010 and has spent five years becoming diehard Lions fans, so much so this 25,500 capacity, state-of-the-art facility is underway and due to be completed in 2017.
A structure of this size requires a massive amount of Fire & Life Safety elements to protect lives in cases of emergency. DynaFire will be designing and responsible for the entire commercial fire alarm installation as well as Clean Agent fire suppression systems in the necessary areas. What does that mean? Well, commercial fire alarm installation is pretty self-explanatory, it entails DynaFire working alongside other vendors on site to create code compliant fire alarm system designs and then installing fire alarm panels, strobes, sirens, smoke detectors, and a number of other fire alarm elements to ensure the safety of Lions fans.
Clean Agent fire suppression is an entirely different beast. Fire suppression systems exist to protect high-value assets and property from fire damage. For the Orlando City Soccer Stadium that may include server rooms, sound booths, and other areas that house critical and high-value equipment. Clean Agent fire suppression systems are waterless systems that extinguishes fire quickly while preserving the integrity of the space, allowing for staff to return to work almost immediately. Which in this case will mean getting back to watching the Lions dominate their opponents!
You can watch the progress on the Orlando City website, here.